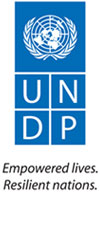 UNDP is the UN's global development network, advocating for change and connecting countries to knowledge, experience and resources to help people build a better life. We work in 166 countries through a network of 135 country offices worldwide, working with them on their own solutions to global and national development challenges. UNDP does not represent any one approach to development; rather, our commitment is to assist partner governments in finding their own approaches, according to their own unique national circumstances.
UNDP advocates for the Millennium Development Goals (MDGs), the concept of human development and the need to empower women. Its series of global, regional and country-focused Human Development Reports are a powerful advocacy tool with a focus on people-centered, inclusive, equitable and sustainable growth.
Under the overarching goal of poverty eradication UNDP focuses on five inter-connected thematic areas: poverty reduction, democratic governance, crisis prevention and recovery, environment and energy, and HIV/AIDS.
Why UNDP works in the country
UNDP is committed to help India achieve the global Millennium Development Goals (MDGs) as well as the national objectives articulated in consecutive Five-Year Plans. The goal of the organization is to help improve the lives of the poorest women and men, the marginalized and the disadvantaged in India. UNDP works in the following areas: Democratic Governance, Poverty Reduction, Crisis Prevention and Recovery, Environment and Energy, and HIV and Development.



India – UNDP Project (Biodiversity)
Project Title : "Strengthening Institutional Structures to Implement the Biological Diversity Act"
Project Code : 61122
Atlas Award ID : 498181
Project Duration : 2009 – 2012
Project States : Jharkhand & Madhya Pradesh
Responsible Party : The project is headed by the Member Secretary of the State Biodiversity Board.
Objective : Strengthening the institutional capacities at various levels and brings in behavioral changes to manage natural resources in an integrated, participatory and sustainable manner.
Orientation Meeting : Project Orientation Meeting at Ranchi, Jharkhand was organised on 14th September 2009, under the Chairmanship Chief Secretary of Jharkhand. The meeting was attended by Dr. P. L. Gautam, Ex-Chairman, NBA, Preeti Soni, UNDP and other senior officers of the Government of Jharkhand.
Launch Workshop : Project Launch Workshop in Jharkhand was organized on 15th September, 2009 at the ATI Conference Hall. His Excellency K. Sankaranarayanan, the Governor of Jharkhand was the Chief Guest and Sri Wilfred Lakra, Advisor to Hon'ble Governor of Jharkhand; Chief Secretary, Govt. of Jharkhand; Chairman, NBA and UNDP Country Director also attended the ceremony.
Project District : In Jharkhand initially two districts have been selected i.e., Hazaribag & Latehar
Project Activities:
1. Awareness Generation
2. Documentation on Biodiversity
3. Publication on Biodiversity
4. Preparation of People's Biodiversity Register in selected panchayat through BMCs.
5. Capacity Building – Meetings/Workshops, Exposures, Trainings etc.
6. Selection of Biodiversity Heritage Site (BHS)
7. Access and Benefit Sharing (ABS)
8. Conservation of Rare, Endangered & Threatened Species
9. Conservation of Biodiversity
10. Bio-resources based livelihood trainings
11. Regular conducting special studies
12. Development of Repository